WHERE ARE THE JOBS BOOMING?
Newyork Based CNN Money states this in its latest survey that you would not be turned down by your employer anytime in your life if you belong to healthcare.
So don't worry if you have chosen Biomedical Engineering as a field for your life. Biomedical is everlasting field which will not leave you even if you are dying. Rest you can read the details below. courtesy( CNN MONEY)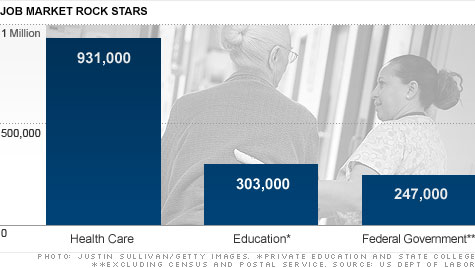 While the overall job market was crippled by the effects of the Great Recession, some sectors never stopped hiring.
A CNNMoney analysis of the more than 140 sectors tracked in the Labor Department's survey of employers found 15 that grew fairly steadily from the start of the recession until today. And an additional 11 sectors have recaptured more than half the jobs that they lost during the recession.
"Even in the worst recession, there are still some industries adding jobs," said Heidi Shierholz, labor economist with the Economic Policy Institute. "The demand for their goods and services don't follow the business cycle."
The aging population, for example, has fueled demand for health care workers.
Health care has added jobs every month since the start of the economic downturn, resulting in nearly 1 million new jobs added to the economy, which comes to about 7% growth.
Within health care there were a number of fields that did even better. Home health care workers grew by nearly 20%, and outpatient care center employment increased by 18%.
Though people who lost their health insurance because of the recession might have hurt demand for some health services, overall, health care is a fairly recession-proof industry.
"If you have a heart attack, you're going to the hospital whether it's 2006 or 2010," Shierholz said.
To read more about this please feel free to click here
Related articles